Lovers Arousal Strap On Vibrator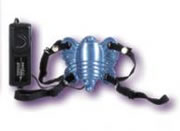 This sex toy for women is made to stimulate you externally. It has two designed uses, to wear for extra stimulation during sex and to allow you to get sexually aroused before a big date. It's silly to me that a sex toy has only two uses but when you think about it, how else would you use this sex toy? It's an odd design and an odd concept but I tried it out of curiosity which I'm sure is also the reason that other women try this sex toy. A strap on vibrator seems so weird because you can't really hit that one "sweet spot" if you know what I mean.
It lies where it will lie and you can't really do much about it. It adjusts completely which is good for a snug fit no matter what your size. It adjusts in 4 places so it straps securely. It sits over the clit yes, but will sit of ride up a bit to be over the pubic bone.
The feel can be described and a subtle erotic massage. It stimulates you but not enough to cause even a close orgasm. It does it's job at simulating sexual arousal because it does get you in the mood for sex.
The big blunt front gives large coverage which I'm is good because if it were small, it would probably miss the mark and not stimulate you at all. As for wearing it during sex, hid penis might rub against the butterfly tail which protrudes over the vaginal opening. The only possible sexual position to use while wearing this strap on vibrator is doggie style because the size.
If you are looking for a strap on vibrator to stimulate during sex and you like to move around and do other positions, then try a different sex toy because this one is too large and bulky.
It's the easiest sex toy to clean because you don't insert it so there is no worry about to going bad on you which is nice. It makes it easier, just give it a rinse and back in the adult sex toy box it goes.
If you are a larger lady, this sex toy will fit you nicely because the wingspan is huge. If you are petite, then stay away you will be very unhappy because of the huge size.
The color is really nice and it's cure tight ripples on the surface and a smooth touch. It's comfortable to wear but not very practical. I used this sex toy because of curiosity but I don't plan on reaching for it very often, there are better options out there.